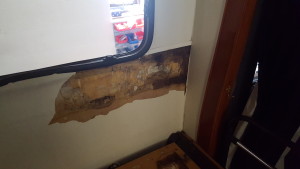 From minor damp prevention to full wall and floor replacement we have the experience to deal with your caravan damp repair. From our fully equipped caravan workshop in Deeside near Chester we can replace wall boards and insulation, reseal rails and window seals. We also do floor delamination repairs
Damp can ruin your caravanning experience and take money and time to fix so prevention is always better than cure. We do a full damp check during an annual caravan service.
To discuss your caravan damp repair please give us a call on 01244 534111.  Or alternatively fill in the online form on this page and we will get back to you with any questions you may have.