For motorhome damp repairs in Chester, Wirral and North Wales give us a call. At Deeside towing Centre we carry out motorhome damp repairs on a daily basis and our experienced engineers can return your damp motorhome to its former glory.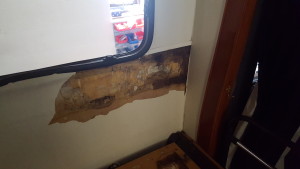 Our repair team are ready to take on any damp repair to your motorhome, from minor preventative work to serious structural rot problems. Most importantly we will rectify the cause of the water ingress in your motorhome whether it be cracked panels, leaking seals or leaking roof lights.
The best way to prevent serious damp damage in your motorhome is to keep an eye on tell tale symptoms such as smell and mould patches and to get your motorhome habitation service every year.
All our motorhome and caravan damp repairs are fully guaranteed.